Furniture refers to movable objects intended to support various human activities such as seating (e.g., chairs, stools, and sofas), eating (tables), and sleeping (e.g., beds). Furniture is also used to hold objects at a convenient height for work (as horizontal surfaces above the ground, such as tables and desks), or to store things (e.g., cupboards and shelves). Furniture can be a product of design and is considered a form of decorative art. In addition to furniture's functional role, it can serve a symbolic or religious purpose. It can be made from many materials, including metal, plastic, and wood.
Metal furniture is a type of furniture that uses metal parts in its construction. There are various types of metal that can be used, such as iron, aluminium, and stainless steel.
Aluminum is a light and corrosion resistant metal,and to take advantage of these qualities, it is heavily utilized for stamped and cast furniture, especially in the category of molded chairs. Aluminum atoms form an outer layer of Aluminum Oxide, which prevents the internal aluminum from being corroded.
Metal furniture is a popular choice of furnishings, especially used outdoors for decks and patios. However, metal furniture can also be used indoors, such as brass beds, brass tables, iron bakers racks and metal curio cabinets. Besides being sturdy, metal furniture is attractive, giving a contemporary look to your home.Xinyu Mould manufacturing all types of aluminum casting furniture product HPDC dies and components.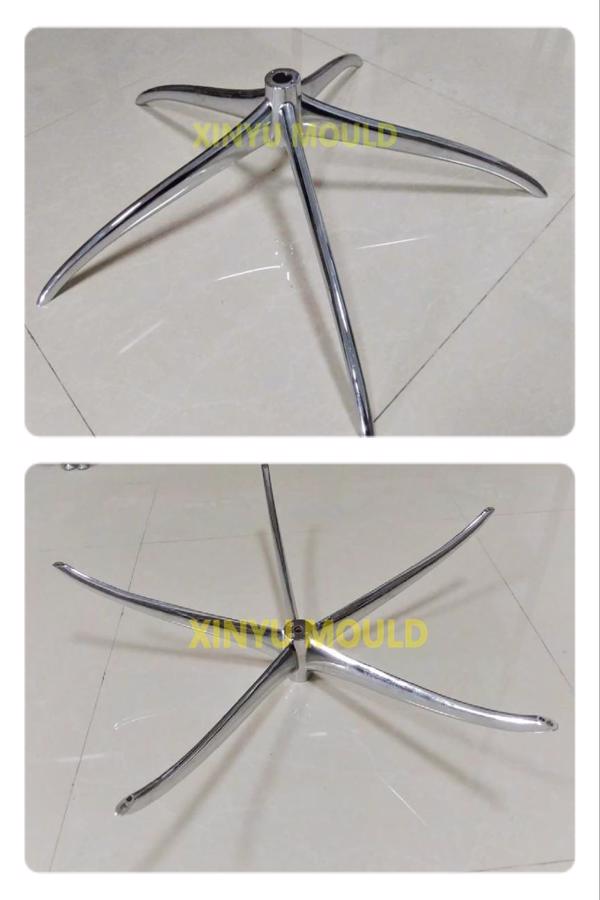 Xinyu Mould Capabilities
1.Year Of Establishment:2002
2.Location:2 (One Is Brand New)
3.Land Area:3600sqm
4.Emplyees:120
5. Equipment;CNC:18 (Makino, Toshiba, Liyang ), WEDM:10, EDM:9, Spotting Machine:2, CMM:2, Gun Drill Machine:2, Die Casting Machine:7, Others:50
Xinyu Mould Technical Profile
1. Engineers In 2d&3d: 16
2. Engineers In Cnc Programming:6
3.File Format For 2d: Dwg&Dxf
4.File Format For 3d:Iges&Step
5.Software For 2d:CAD
6.Software For 3d:Simens NX & Pro-E
7.Software For Programming: Powermill
8.Software For Mould Flow: Magma
Xinyu Mould Process Control
1.MES Process Control System
2.IATF 16949 Quality System
3.Well-Trained Operators
4.CMM Inspection
1. CAE Support Magma(Lid 18175001)
2.Rich Experience In Casting Dies For Auto Structual Parts,Powertrain;Oil Pan;Redirector; AC Compressor
3.Trial Run Machines Available In House From 160t To 1600t
4.Vaccum Venting System Application In Dies
5. Partial Squeeze Skill In Dies
6.High Precision Imported CNC(5 Axis)
7.Globalized Hr Concept
1.Max Die Size:2500*2500*1800
2.Max Die Tonnage:2500t
3.Biggest Die Casting Machine:1600t
4.Most Complex Die: 11slides
5.Yearly Capacity:350sets
1.Main Market:Na;Europe;Asia
2.Main Field: Auto;Telecommunication;
Lighting;General Machinery;Power Tool
Furniture
3.Partner Offering After Sales Service:
Available In India&Us,Europe
4.Business Involved:
Aluminum Die Casting Dies
Aluminum Die Casting Components
Xinyu Mould Commercial Terms&Conditions
1. Fob Ningbo/Shanghai
2.Payment Term:Tt
3.For Dies:50% Down Payment 50% Prior To Delivery
4. For Castings: 10% Down Payment
The Rest Within 30days After b/l Date
5.Leadtime For Quotation:2days
6.Feedback For Customers' Query:24hours